THE STRAIN MAN MACHINE 7000
A project based around the intense urge to create lots of silly looking guys
HOW TO PLAY:
TAP ANY KEY ON YOUR KEYBOARD TO FULLY RANDOMIZE THE MAN,
CLICK ON A SPECIFIC FACIAL FEATURE TO RANDOMIZE ONLY ONE AT A TIME
This project concept began as a random generator of illustrations that would essentially create randomized compositions of abstract yet geometric pieces of artwork. A user would boot up the program, and then create their own unique combination of illustrated panels. After creating this version of the project in the three primary colors, and with many random creatures, I decided it had further potential. So the project then became a random generator of faces in the same illustrated style, and with the same basic concept of interactive randomization to create unique faces. What was most important to me was the idea of conveying as many emotions and personalities as possible. With both random and manual reconfiguration of the face, so many different facial possibilities were possible, allowing users to create a man unique to just them. 
After creating the schematic, I created a sort of blueprint (no pun intended) of the entire composition of the project, to to act as a baseline for the rest of the illustrations I would create. Each facial feature would then be copied and expanded upon in as many iterations as possible. I then created many, many alternate versions for all of the spaces to fill each of the 49 spaces on my intended 1400 by 1400 pixel composition in the p5.js web editor program. In total, I illustrated 335 unique panels in total, making for quite a lot of random combinations possible for the user to explore and be entertained by. Each illustrated page of body parts was then scanned on a flatbed scanner one by one, digitally cropped, and uploaded to the p5.js program. To top off the project, I added silly bodily sound effects to play when the nose, eyes, and mouth were manually changed.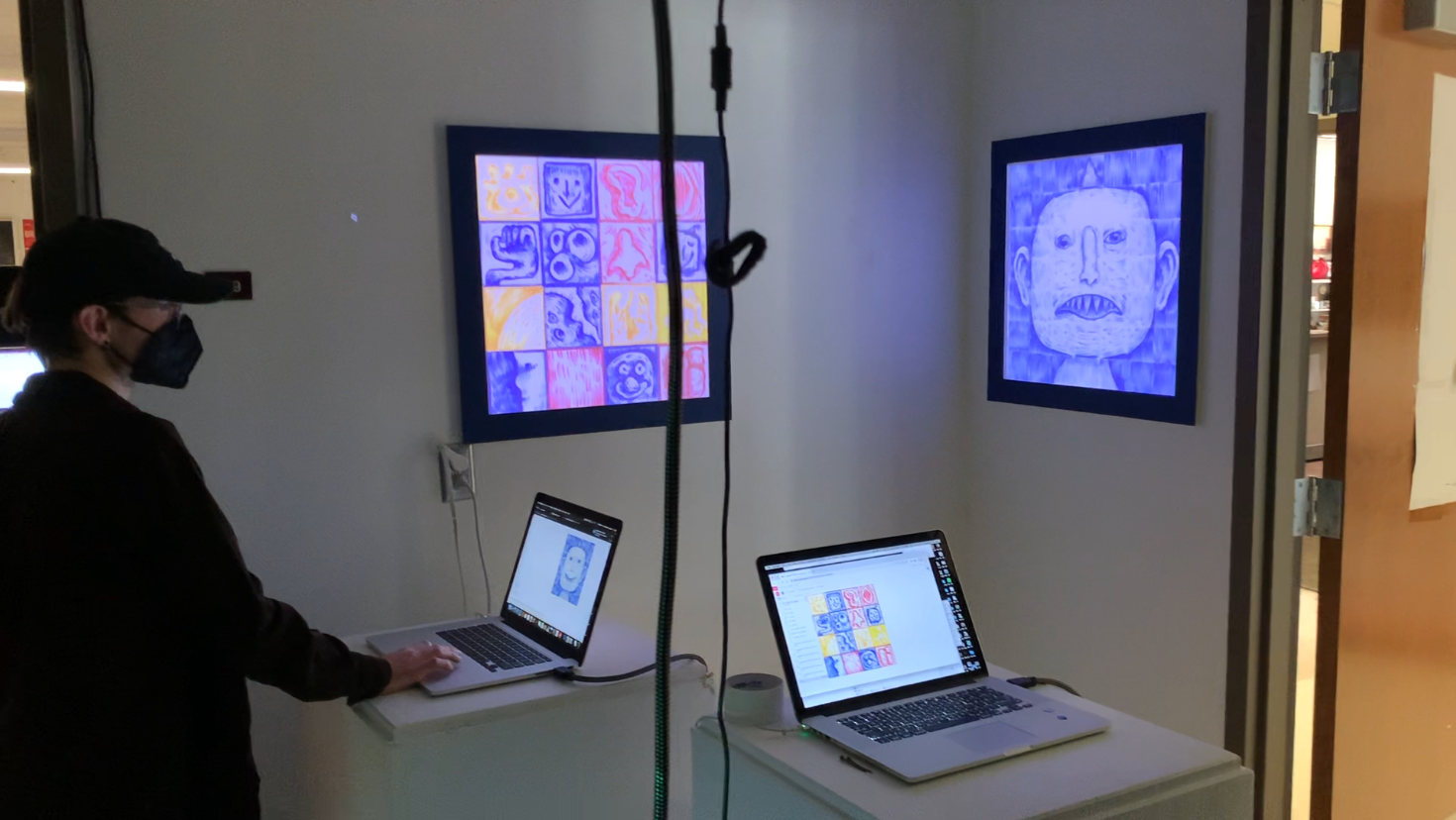 I created two physical frames to house the projected image of the Man Machine and its original version. They were made with a solid backing piece of white foam board and then built up with foam board walls to create a sort of well for the projected image to sit back into, with a blue mat board on top to simulate a colored frame to match the blues of the projects. This gave the project a look of an actual traditionally made art piece framed up on the wall. MacBooks were used to allow easy manipulation of the programs as they were interacted with.  The screen's images were then projected into the custom frames with two ceiling mounted projectors.
Users created a massive amount of different faces, each with their own unique personalities and expressions. The project made people laugh and smile, and above all else that was the ultimate goal for me. It was beautiful to see the seemingly endless amount of unique characters the generator could cook up. Even the slightest change of a mouth could make one iteration of the Man Machine have a completely different personality from its predecessor. Take a screenshot, 
tag @joey_strain on instagram and share your unique Man Machine creation !